Pacifica 2021 Art Contest
Art Contests:
Traditional Category 1:
Winner: Maria Guerrero- Maria Guerrero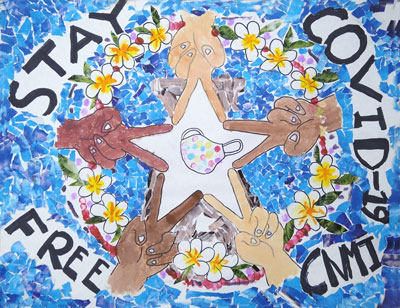 Traditional category 1 first place winning art by Maria Guerrero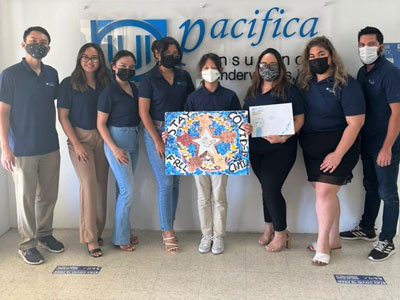 Maria Guerrero- Maria Guerrero, a 5th grade student from Mount Carmel School receiving her $200 prize and certificate from Team Pacifica Insurance Underwriters Inc.
Traditional Category 2:
Winner: Byul An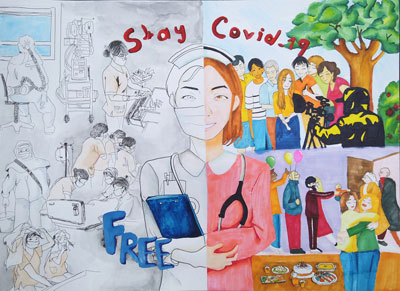 Traditional category 2 first place winning art by Byul An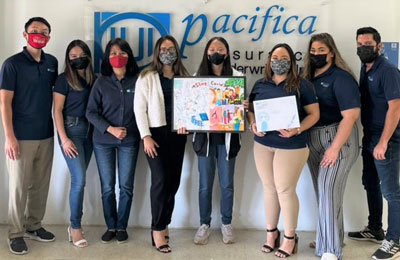 Byul An – Byul An, 7th grade student from Saipan Community School receiving her $200 prize and certificate from Team Pacifica Insurance Underwriters Inc.
Digital Category:
Winner: ChiaHui Wang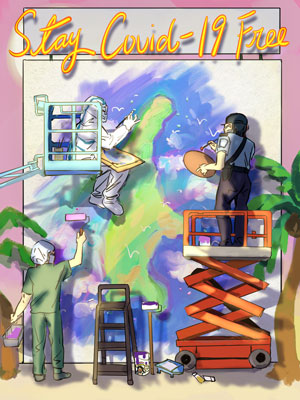 Digital category first place winning art by ChiaHui Wang.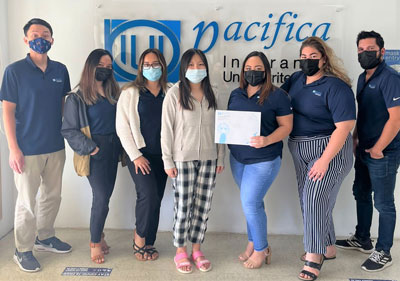 ChiaHui Wang, a student from Saipan International School receiving her $200 prize and certificate from Team Pacifica Insurance Underwriters Inc.
3-Dimensional Category:
Winner: Ashlynn Han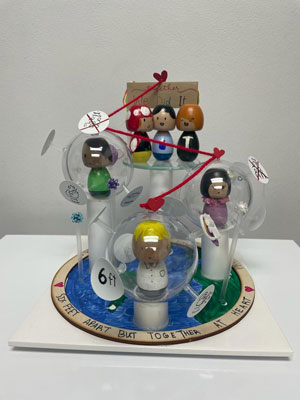 3-Dimensional first place winning art by Ashlynn Han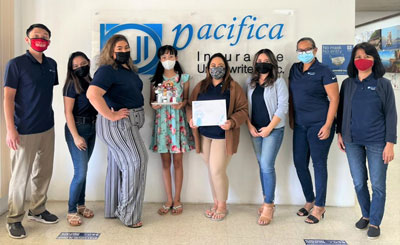 Ashlynn Han, a student from Brilliant Star Montessori receiving her $200 prize and certificate from Team Pacifica Insurance Underwriters Inc.
---
Guerrero, An, Whang And Han Top Pacifica Art Contest
"Stay Covid-19 free" was this year's theme for the Pacifica Insurance Underwriters 8th Annual Pacifica Art Contest.
There were a total of 177 entries collectively from all categories which included traditional, digital and three dimensional. The digital and physical three-dimensional (3D) categories were newly added to the contest this year.
Placing first in their respective categories were Mount Carmel School's Maria Guerrero for traditional category one, Saipan Community School's Byul An for traditional category two, Saipan International School's Chia Hui Whang for digital and Brilliant Star Montessori's Ashlynn Han for three dimensional.
"This year's theme resonates with all of us. The world has never been smaller than it is today, as we face this global pandemic together working in unison to put an end to this deadly virus. We are completely blown away by the artworks shared in this year's contest. You can feel the pain and the strength simultaneously expressed in every piece. We are extremely grateful to all artists and volunteers who had a hand in this" – Shirley Sablan, company president.
The judges for this year's Contest were:
Traditional Category judges:
2021 Miss Marianas Savannah Lynn Delos Santos
Kagman High School art teacher Yolani Camacho and
Journalist/writer Ulysses Sambuco
Digital and 3D judges:
2020 Miss Northern Marianas Earth Maria "Ria" Terlaje
Northern Marianas College marketing manager Raynard Travilla and
Saipan Music and Dance Studio choreographer Rhine Russell
Some reactions from our judges:
"I had so much fun judging every single piece. Every single art piece that was submitted was so beautiful and it was so difficult to judge everyone. I myself love to paint and I love to draw too, but I'm definitely not as talented as some of the artists whose pieces I was judging, and it was just so nice to see young artists submit their work. I hope that Pacifica Insurance's art competition every single year just encourages more and more young artists to put out their work because just simply putting time, effort, your heart and soul into a piece already makes you a winner. And thank you again, and congratulations to all the winners, I hope you're proud of yourself because I definitely am proud of you." – Savannah Delos Santos
"This year I judged the 3D and digital art contest. I really enjoyed looking at the different interpretations that our community members had on this pandemic and how they turned them into art pieces. With all the circumstances that COVID-19 brought to our islands, these artists found great and beautiful ways to turn a negative situation into something more positive. So each of these artworks was a true representation of the hope and the resiliency in our people, especially in our youth which filled me with lots of joy as a judge." – Ria Terlaje
"In my opinion, all participants are so creative that it gives me a bit of hard time to judge. I am proud to see so many artistic individuals in this island." – Rhine Russell
The Contest
Pacifica Art Contest is a visual arts competition designed to nurture and support local talent and the arts. The contest has gathered over 2,000 artworks since it was first introduced in 2014.
With the additional two categories, which now allow artists to submit their art in a digital format and as a 3D physical piece, Pacifica Insurance hopes that more artists will participate in its annual art contest.
"The world has gone digital. We have all grown accustomed to producing art using applications on our phones, tablets, etc. However, we can never replace the effect that a physical art piece gives us as we touch, feel, and appreciate it in person. Expanding our art contest with physical 3D was an essential and exciting move for us." - Shirley Sablan
Artworks from every category were judged on four criteria:
Creativity and originality
Quality of artwork
Clarity of theme, and
Overall presentation.
The traditional category mediums included pen, paint, charcoal, oil pastel, crayons, and color pencil.
The digital category allows an artist to submit their artwork digitally. The artwork can be in the form of a digital photograph, video (not to exceed 30 seconds) and two-dimensional art.
The physical 3D category allows an artist to submit an art piece in a physical 3D form that can be judged in person. The judge must be able to judge the creativity and feel the texture and vibrancy of the physical piece.
Other artists who made it to the top ten:
Traditional 1:
Erielle Mendoza
Daniel Nae
Sofia Cariaso
Sayema Sidur
Althea Lauron
Geeliana Deleon Guerrero
Brianna Deleon Guerrero
Kazzandra Drilon
Jae Hun Choi
Traditional 2:
Yang Sheng Shi
Earle San Nicolas
Marisa Wang
Tian Jiao Xu
Tian Si
Isa Nishitani
Juliana Vergara
Jhazmyn Nichole Valiente
Dayul Kwak
Digital:
Summer Wania
Angelina Laxama
Anvrei Batobatan
Eianne Ladao
YuJeong Son
Ezra Alfred
Jing Lin
Ralph Molinar
Greatshen Martin
Physical 3D:
Louis Ogo was one of two artists who had an art entry for the 3D category. A video featuring his life-size entry will be featured on Pacifica's company social media pages.
Pacifica Insurance invites the public to visit their office in Susupe to view and enjoy all top placing art pieces of this year's art contest, which will be on display throughout the holiday season.
You may also find them on Pacifica's Facebook, Instagram and YouTube social media pages.
For general information about Pacifica Art Contest, email Pacifica Insurance or visit our office located at the Joeten Center in Susupe during normal business hours, Monday to Friday, 8 am to 5 pm.